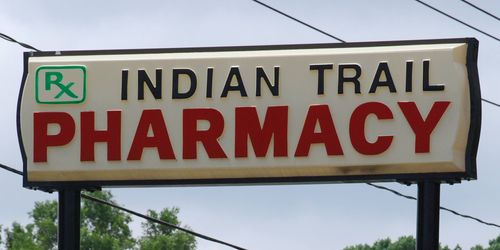 Since 1970, locally owned and operated Indian Trail Pharmacy delivers the highest quality medicine with the fastest most reliable service. Not able to wait or stop by the pharmacy, don't worry. Our friendly home delivery service has you covered. We truly care for your pharmaceutical needs. Your health is our number one priority.
We provide prescription refills, compounded medications, custom pet care, OTC medications and compression options you can trust. Personal and individual care is what you deserve and what we offer. We are the HOME TOWN PHARMACY you can trust and will enjoy getting to know.
We accept most major prescription insurance plans, including Medicare Part D Plans. Our Generic list will help save money on many of your generic medications, while our pharmacists will work with your health care provider to obtain cost effective results for your medical needs.
T.J.
Owner and full time pharmacist, TJ goes above and beyond to make his customers feel at home. He's never met a stranger, so don't be afraid to stop by and say hello!
Jennifer
Jennifer is our part time pharmacist and has been serving at Indian Trail Pharmacy for more than 15 years. She's personable and here to help.
Gina
Stepping in to help a few days a month, Gina is an efficient and friendly pharmacist. Catch her in action every other Wednesday and whenever TJ is away.
Judy
Judy is the best pharmacy tech in Union Co. and has been serving at Indian Trail Pharmacy for more than 25 years. Judy is here to greet you as you drop off your prescriptions.
Stephanie
Compounding extraordinaire, Stephanie is the one who will prepare your compounded scripts with a smile.
Beverly
You will usually catch Beverly counting away at the pill counting machine. She helps us maintain efficiency and productivity.
Gloria
Gloria is one of our friendly cashiers and will gladly help you at check out.
Amy
Amy serves as both a cashier and assists with delivery. She's always here to help and encourage our customers.
Larry
Larry is one of our amazing delivery drivers. He's fun, personable and full of fun facts.
Chuck
If you are getting a delivery on Tuesday or Thursday, Chuck will greet you with a smile.